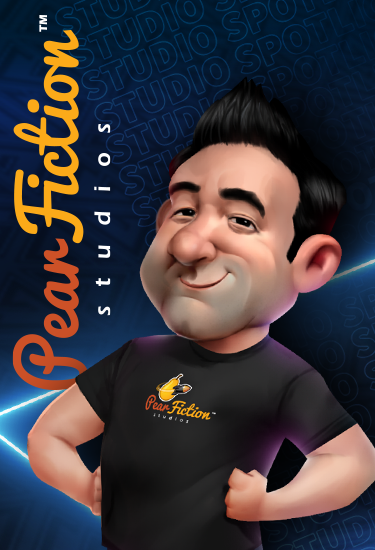 Creating a Pear-fect game with PearFiction Studios
2023-07-28
Just the right blend of creativity, humour, and player-centricity
PearFiction Studios are on a soaring journey to generate buzz and excitement within the online gaming industry, and they're doing it loud and proud.
Having made a name for themselves developing hugely innovative, story-driven, and hilarious online casino games, they're certainly not about to get lost in the crowd!
We caught up with PearFiction Studios CEO and Founder Thierry Semoff to find out how their unique mixture of creativity and character has propelled them to the forefront of the industry.
Q. Tell us about PearFiction and your team?
A. PearFiction Studios was founded in 2014 in Montreal, Canada with the purpose of developing casual games for Android and iOS platforms before moving into the iGaming world in 2019. We originally published around a dozen small to mid-sized casual games such as Blitz Racer, Blocks Quiz, Tiny Necromancer, Alien Road Rage, and later PowerUp Slots™. Mobile casual games were fun to develop but we found that many of our most successful creations were casino games; their popularity led us to make the switch to online casino games in mid-2016.
We have since developed slots such as Blazing Mammoth™, Squealin' Riches™ and Granny vs Zombies™ which we are incredibly proud of. From the beginning, we have strived to create each game with a unique character and a story it can tell. This mark reflects the PearFiction style. Our games combine humour, amazing artwork, a variety of features, a high level of longevity and most importantly, an enjoyable gameplay experience.
The emphasis of our games is placed on players and the journey they may take to reach the bonus round. Our aim is to provide players with an experience that is diverse and as thrilling as possible.
Q. What makes PearFiction different to others?
A.We have a diverse and passionate team of 'PearFictionists' located all over the world in countries such as Malta, India, Estonia, and South Africa. Whether it sounds cliché or not, it is truly rewarding to work with people who share your passion and are dedicated to achieving excellence on both a creative and technical level. In my opinion, all of us at PearFiction embody Pearfictionism in one way or another.
Honestly, what makes us stand apart from other studios is our sense of humour. We do what we love, and we love what we do and that truly shows. We pour passion into everything that we do. From our concepts to our art, our stories, and our gameplay; we keep the entertainment of our players at the absolute heart of everything.
PearFiction Studios showcases a blend of creativity and player-centricity. We are not another run-of-the-mill game studio, and we do not ever want to be. We take our time to create our titles, crafting games that we hope will leave our players with a grin from ear to ear. We do indeed have a secret sauce that makes our games stand out in the vast ocean of slots. It's all about finding that sweet spot where fun, humour and innovation collide.
Q. What are PearFiction's standout titles?
A. Hands down, it has to be Chicago Gold™, Squealin' Riches™, and Granny Vs Zombies™! These three games have been massive hits for us, and a big part of their success comes from their captivating themes, charming characters, and engaging storylines.
Our adorable little piggy character, in Squealin' Riches™, stole the hearts of our players with his happy-go-lucky personality and drew many people in to play and enjoy the game.
With Granny vs Zombies™, our players fell head over heels for Granny's sweet charm at first glance, and then were really blown away when discovering her incredible bad-ass side as the game unfolded. Taking on hordes of zombies during an apocalypse, she was armed with unconventional weapons, and she killed it!
What has also hugely attributed to the excitement of our games, is our famous 'LockNWin®' feature and it is quickly gaining more and more popularity with every game we release.
Players love the thrill of LockNWin® and other features we've incorporated. Whether they prefer low or high volatility gameplay, entering the LockNWin® feature on just their second spin is a blast for them. We can proudly say our game provides one of the fastest paths to such an exciting feature. It's incredibly satisfying to experience, and we haven't come across many other games that deliver this level of fun so quickly.
Q. What is your personal favourite title from your studio?
A. All of our games are special to me so trying to choose is incredibly difficult as you can imagine. However, I will say Granny vs Zombies™ is such an incredible game. Our Granny never fails to make me laugh while I also admire her tenacity and charm. She really is a super star and superhero, and we love her dearly.
With great graphics and story development, the LockNWin® feature is definitely a winner. Watching the team work with so much determination and drive to get this game out was incredibly moving and the PearFictionists really came together to put this amazing game out.
Chicago Gold™ is my personal favourite game. The art and animations really draw players into the game and even though this was one of our first slots we produced, players are still thoroughly enjoying the experience, which really proves what a great game it is.
Q. What part of the game development process do you most enjoy?
A. My favourite part of the game development process is most definitely coming up with new game concepts. I zone out for hours at a time to come up with new ideas that I believe will translate into great slot games for players to enjoy. I love to geek out and come up with fun features to create a thrilling ride. A strong and catchy concept coupled with an excellent math model is what drives and inspires my passion for game development.
But what really makes me enjoy it all the more is working with our amazing team. Together, we strive for Pearfection in every game we create, meticulously play testing and refining the math, hit rates, and feature balances to ensure an exceptional gaming experience.
A. What trends do you see for the future of iGaming?
Our industry is incredibly fast-paced and ever evolving. It is exciting as well as unpredictable as players constantly seek new and thrilling games every day. Players are looking for more immersive and innovative gaming experiences tailored for on-the-go play. They want to be able to pick up a game and to feel excited and entertained as soon as they load the game and play for the first time.
Eye-catching graphics as well as exciting math models that captivate the players' senses is what the future of our industry is. I also believe that new game features that are yet to be explored and designed will be something our industry will benefit from in the future.
I also see the convergence of gaming and entertainment becoming more prominent. Players are seeking engaging and ongoing narratives along with interactive elements. With so many different forms of entertainment vying for attention, and less free time on people's hands, something which ticks various boxes at once will soar amongst the competition.
Q. What can we expect from PearFiction's roadmap?
We are very excited about our roadmap for the rest of the year and into 2024. I think we have struck a great balance between brand new ideas and exciting follow-ups to features our players have come to know and love. Developing the roadmap is very exciting because it gives us an opportunity to reflect on our achievements, asking ourselves how we can build on our successes and push our games to new, exciting places.
Our upcoming slots include Blazing Mammoth XL™ the successor of our popular game Blazing Mammoth™, which continues to push the instant jackpot game features. We will also follow thereafter with a couple of other character-driven games to increase and enhance our game portfolio, bringing new characters and features to our player base.
We are always thinking about the players, and we want to bring them new and innovative experiences with every game. We think that players will love our future games just as much as we do!
Stay up to date with all the latest from PearFiction Studios by following them on LinkedIn here.